Comprehensive Freight Shipping Services in San Diego
Full Range of Logistics Services
We can ship your valuable items from any point of origin to any destination. When you use our comprehensive U.S. domestic shipping and international shipping services, you can focus on other tasks confidently knowing that we are ensuring your shipment is managed correctly and the process is running smoothly.
Are you looking for a reliable and trustworthy San Diego shipping company? Craters & Freighters if for you. We will provide you with a secure, smart, and efficient packing and freight shipping process in three quick steps:
Step 1: Call us to talk about your personal packing and freight shipping needs.
Step 2: We will create a professional, recommended approach to your project and a quote and send it over to you for review.
Step 3: After the terms have been agreed upon, our San Diego team of freight specialists start your packing and shipping process.
Shipping Service Options
What is the best way to get your items where they need to go? We work with you to find the ideal solution out of the many options we have available. That includes how your shipment is crated and transported, as well as the timing of pickup and delivery.
We treat every engagement like it is our only engagement. We have found that that is the best way to ensure your valuables make their journey safely, securely, and cost-effectively.
And if any issues arise, we address them promptly and fully to make sure your shipment stays on track from start to finish.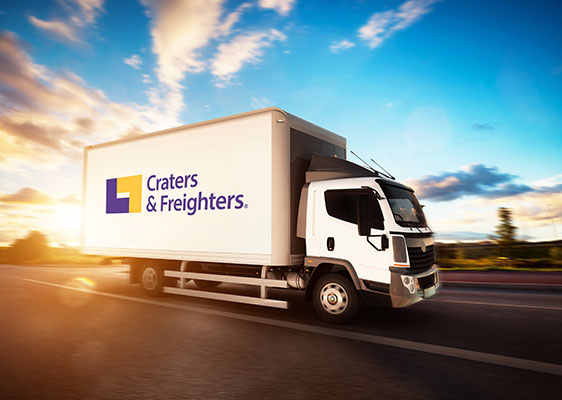 Why Ship With Us?
Craters & Freighters offers all of your crating and shipping services in San Diego. We are seasoned shipping professionals with decades of experience and customer satisfaction behind us. 
Our team will provide unparalleled crating and shipping excellence through detailed, comprehensive management of any shipping project that comes to us- oversized, challenging, and hazardous items, as well as valuable, collectible pieces, and even everyday household belongings.  
We have a logistics team that expertly maneuvers through the entire custom crating and freight shipping process, ensuring peace of mind to all of our customers. 
Craters & Freighters is known globally for our diligence in supporting any kind of commercial, residential, domestic, or international freight shipping service, and for our exceptional tailored crating and packaging services.
We Ship Anything & Everything
Large, heavy, oddly shaped, or fragile items do not intimidate us. There is not much we have not shipped. In fact, we look forward to the kinds of challenges that other providers walk away from. If you're wondering if our San Diego freight company is right for you, the answer in all certainty is yes. Call us at 619-265-0509 to learn more about our full array of shipping services.
Your freight shipping needs are unique and we will always respect the importance of your personal shipment and your individual crating and shipping goals. 
We assure you that our San Diego Craters & Freighters team is prepared for your custom crating and freight forwarding project, no matter how challenging or demanding it is. Our crate engineers have successfully designed and built crates for highly hazardous, exceptionally fragile, and very sensitive materials.
Let our San Diego shipping team prove to you that we are the best shipping company for your domestic shipping, international shipping, air freight or ocean freight shipping, cargo shipping, white-glove delivery, residential pick-up, or custom crating project.    
If you'd like even more reasons to let us take care of your packing and shipping project, read more about us, look at some of our reviews by our discerning clientele, and learn more about our sustainability efforts and projects.
When looking for a crating and freighting service in the San Diego area, you have choices, but we know that if you work with us, you're working with an unmatched logistics team.  A team that truly provides the whole package, no matter the size of your packing, crating, or shipping project.  Call us today and let's get started.
Get a fast, free, no-obligation cost estimate from Craters & Freighters San Diego.
All you need to do is provide your shipping goals and requirements to our team; we'll take care of the rest. One of our seasoned engineers will be able to give you an accurate, customized estimate that you can count on. If you don't think we can handle your shipment, call us anyway. We'll head to you and see if we can put together a plan everyone is satisfied with.
Serving all of San Diego County, including the beaches, North County, East County, and South to the border.